John Owen said that sin carries on its war by entangling our affections (desires) and drawing them away. Hence, said Owen, denying sin must be chiefly directed on the affections. We must make sure our desires are directed toward glorifying God, he said, and not on satisfying the lusts of our bodies.

~The Pursuit of Holiness, Jerry Bridges (emphasis mine)
In everything Christ did he acted with the mind of glorifying His Father in heaven. How very different would our lives look if every motive behind our actions was fueled with pursuing glory for the name of Jesus Christ? That each morning as our feet hit the floor our prayer would be, "Father show me how to most glorify you today. Let my thoughts and actions align with Your will. Let the glory that I would seek for myself quickly be repented of and pursue instead the glory for Your name."
In fact, the more we grow in holiness, the more we need assurance that the perfect righteousness of Christ is credited to us. This is true because a part of growing in holiness is the Holy Spirit's making us aware of our need of holiness.

The Holy Spirit makes us more aware of our lack of holiness to stimulate us to deeper yearning and striving for holiness. But Satan will attempt to use the Holy Spirit's work to discourage us.

~The Pursuit of Holiness, Jerry Bridges (emphasis mine)
The desire to pursue holiness arises from an awareness of our sin and its ultimate act against the holy God. Our sin is most offensive to God yet its ramifications reaches beyond mere acquaintances.
This is why marriage, the picture of Christ and His bride, the church, is more important than our present culture would have us believe.
In Pursuing the Pearl: The Quest for a Pure, Passionate Marriage
 by Dannah Gresh she proposes that the purpose of our marriage is not to make us happy but to make us holy.
Don't miss this.
The purpose of my marriage is to make me holy.
Know this, my friend. Satan knows all too well that the most powerful portrait of Christ's passion is a pure and holy marriage. As Christians continue to misuse sex and succumb to divorce, the whole world comes to understand less of who God is because we understand less of His love as it was meant for us to know it within a faithful, loving, passionate marriage.
~Pursuing the Pearl: The Quest for a Pure, Passionate Marriage
In the pursuit of holiness we must not look at our brothers and sisters, those of this world or of the family of God, as the enemy. This most definitely includes our spouses. The true enemy of our holiness and of Christ Jesus is Satan.
For we do not wrestle against flesh and blood, but against the rulers, against the authorities, against the cosmic powers over this present darkness, against the spiritual forces of evil in the heavenly places. Therefore take up the whole armor of God, that you may be able to withstand in the evil day, and having done all, to stand firm.

~Ephesians 6:12-13
The sacrificial blood of Jesus Christ on the cross covers our sins and makes us holy before God. His part is completed our portion is left to pursue.
That is what I am reading this Wednesday. What about you?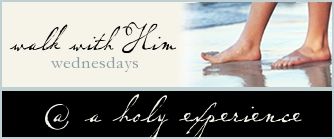 1 Comment