This week I discovered wonderful blog posts for Christian women on topics that we are usually hesitant to talk about. These edifying posts are shared in hopes that if you are struggling with these topics, have struggled, or know someone who is, you can find hope and direction. Additionally, since these are favorites, I am linking up with the wonderfully sweet Rachel over at Finding Joy.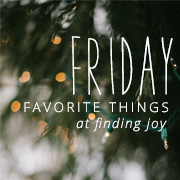 1. I  am constantly second guessing what I am wearing. Do you ever wonder if what you are wearing is appropriate? Truth hits the spot, so this might be helpful: Dressing to Attract via
2. The author of the post above also wrote The Hot Mom Syndrome which was so insightful and honest. With billboards, movies, and society telling women a message quite contrary to Christ's this is an encouraging counter-post from:
3. Mary DeMuth's blog is one that I read regularly. She posted A Story for Those Thinking About Leaving Their Marriage. Ron returned from a youth pastor's conference this week and was challenged by Josh McDowell's presentation about reaching and losing this present generation for Christ. Josh emphasized that this generation looks at pastors and deacons who leave their marriages and then surmise that God's Truth isn't any truth at all because it doesn't work. I was so thankful for Mary's story that encourages married couples to show that the Truth works. Perhaps you need this story as a personal encouragement today?
4. On quiet days, I need this…Give Yourself Grace via
5. Where Do Introverts Fit Into the Church? This one is for both men and women via
I hope that you find these as interesting and insightful as I did. Blessings on this Friday!
Leave a Comment